Civil War Vets Crofton 1880's-1917
Click any image into a new window and then click again for better viewing!
"My Heart has been broken a hundred times in a hundred miles. But Oh! The gallantry of my men"
Colonel Stout at the end of the 17th's march from Chattanooga to Atlanta.
This slideshow requires JavaScript.
May 30, 1899
Will Decorate
The Soldiers' reunion, which has been celebrated at Crofton May 30 for the past few years will be held at Castleberry Church this year.
May 4, 1900
Annual Reunion United Confederate Veterans.
Louisville, Ky., May 30 to June 3. For the above mentioned occasion the Illinois Central R.R. will sell round trip tickets to Louisville, on May 28, 29 and 30, at rate of $3.80. Return limit June 10th. An extension of return limit to June 25th, will be allowed provided tickets are deposited with Joint Agent at Louisville on or before June 4th., and upon payment of a fee of 50 cents.
August 20, 1908
Old Soldiers
********
Hold Reunion at Crofton and
Listen to Speeches
Orations By Several Hopkinsville
Speakers of Reputation
********
The annual reunion of Co., G. 17th Kentucky Inffantry and Co., A, Third Kentucky Cavalry, of the Federal Army during the civil war, was held at Crofton. Speeches were made by Judge C.O. Prowse, Judge W.T. Fowler and Circuit Clerk, C.R. Clark.
The following resolutions were unanimously adopted by a rising vote.
Crofton, Christian County, Ky., August 17th, 1908.
At the regulat meeting, this day, of the "Associated Members of Companies G. 17th Ky Inf., vol., and A, 3rd Ky Cavy. vols., war of 1861-65 and affiliating comrads,"the following resolutions were presented and adopted by a rising vote.
Resolved 1st. That more than 43 years having elapsed since following the flag to uphold the sacredness of the fundamental principles of our Republican government-as laid down by the constitution framed by the founders of this republic, we assert out allegiance to that instrument, and the laws to uphold it; and that we are ever ready to defend the flag of our country as the emblem of equal rights and national unity.
Resolved 2nd. That the greatness and prosperity of our country and State are maintained by the enforcement of the laws, made for the government of the people, and by the people; therefore we urge upon all citizens of our country and State a strict observance of law, and a rigid enforcement upon on violators; in the language of old commander, "Let us have peace."
Resolved 3rd. That we will ever cherish the memory of our deceased comrades, that we realize the fact that it will be but a few years until all of us will muster with those gone before upon the parade ground of heaven; that it is with feelings of the deepest sadness we today miss the cheerful faces of comrades Virgil A. Hamby, John M. Cruse, Lawrence B. Armstrong and Sam McCord, who answered "here" this day one year ago, and to their loving friends we tender our sympathy and condolences.
Resolved 4th. That the thanks this association and affiliating comrades are due, and are now given to the good people of Crofton and vicinityfor their kind hospitality, and our thanks and appreciation are also given tot he speakers and others who aided in this reunion, and made it so pleasant and enjoyable to all.
Resolved 5th That we keep alive these pleasant reunions by meeting again on the first Saturday in October, 1909.
Resolved 6th. That these resolutions be published in the Hopkinsville Messenger, Hopkinsville New Era and Hopkinsville Kentuckian.
By order of the Association
M.B. Brown's Presiding.
C.A. Brasher, secy.
October 4, 1910
Reunion At Crofton
********
Many Addresses Appropriate to Occasion Delivered.
********
The annual reunion of Companies A, 3rd Ky. Cav., G, 17th Ky. Inf., H, 48th Ky Inf,, and other Federal soldiers was helpd at Crofton last Saturdat. Company A. 3rd Cav. was organized at Owensboro with Maj. Jno. W. Brethitt as the first Captain. Company G was organized at Henderson as Companies A and B, 25th Ky., with Capt. B. L. Underwood and Capt H.C. Cooper in command. Later these companies were consolidated when they became Co., G 17th Ky. with Capt. John V. Boyd as commander. Company H, 48th Ky., was commanded by Capt. James M Wilson, of this country.
This reunion, though not having so many present as some former ones, yet was the most enjoyable one held. Appropriate and eloquent addresses were made by Thomas Ewing, Capt. E.W. Pratt, Rev Nance Frank Campbell and others.
A bountiful and elegant dinner was spread by the kind ladies of Crofton and the old comrades partook of it in a manner showing they lost non of their appetite acquired during the 60's.
A resolution was adopted at the meeting disapproving the pension bill as proposed by the National Encampment of the G.A.R. at Atlantic City and giving a unanimous endorsement of what is known as the National Tribute pension bill.
Comrade M.B. Brown was reelected as president and C.A. Brasher as secretary of the reunion.
The next reunion will be held at Crofton the first Saturday in October, 1911.
October 7, 1913
Reunion at Crofton
********
Old Officers Re-elected.–Good Attendance
********
The annual reunion of the old federal veterans at Crofton Saturdat was attended by thirty four old soldiers. Dinner was served to the veterans by soldiers and others living at Crofton.
Rev. J.B. Fosher, Capt. E. W. Pratt, Rev. John M. West and others addressed the meeting.
The young ladies of Crofton deserve thanks of the old soldiers for the kindness shown them. M.B. Brown, President, and C.A. Brasher, Secretary, were re-elected.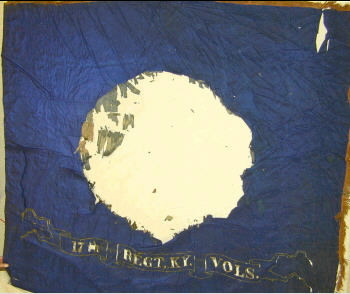 REGIMENTAL COLORS
17th Kentucky Volunteer Infantry Regiment
The above picture is what is left of the Regimental Colors of the 17th Kentucky Infantry. The colors were sewn by the loyal ladies of Owensboro and presented to Colonel McHenry before his departure to Calhoun in the fall of 1861.
The flag is believed by Bill Bright of the Kentucky Historical Society, to be the State Flag of Kentucky. In the center was the Kentcuky State Seal of two men clasping hands and the words, "United We Stand", "Divided we Fall". A unit's colors are marked by the gold fringe on its border.
A sergeant was normally charged with protecting the regimental colors, and they would have been carried by an enlisted men in battle along with the national colors (American Flag with gold trim). These brave men were often volunteers and many were wounded or killed as they became prime targets for the Confederates. One such soldier was Private Amos B. Dicken of Company C. He carried the 17th's regimental flag throughout the Battle of Shiloh. After the battle, he was listed on the sick-list for an extended period of time.
The colors were important in identifying units on the battlefield and serving as a rallying point and to control the movement of the regiment. The enlisted soldiers understood the importance of protecting the colors and ensuring they remained aloft and in the correct position during battle. The regimental colors served as an important motivator for the soldier who took pride in his identification with his regiment.
This recent photo of the 17th's colors were provided by Gene Beals who obtained them from the Kentucky Military Historical office in Frankfort where they are stored.
Sources:
Gene Beals and the Kentucky Military History office
Pension witness deposition of Major Isaac Calhoon for Amos B. Dicken


Click to see the Regimental Flag
SEVENTEENTH KENTUCKY VOLUNTEER INFANTRY
Historical Summary

Alpha Index
     The 17th Kentucky Infantry was organized in December, 1861, at Calhoon Kentucky, under Colonel Jno. H. McHenry, jr., and was mustered into the United States service on the 4th day of January, 1862, at Calhoon, Kentucky, by Captain Jno. E. Edwards, 3d United States Artillery, Mustering Officer.
Immediately after organization it was placed upon active duty, and proceeded to the front. In April, 1862, this regiment and the 25th Kentucky, having been so much reduced by disease and the ordinary exigencies of the service, an order was issued for their consolidation, the regiment to retain the name of the 17th. The 25th Kentucky, under Colonel J. M. Shakleford, was thus consolidated and lost its designation, but during its existence won great distinction for the unflinching valor displayed by both officers and men in the battles of Fort Donelson and Shiloh, Tennessee.
The new organization, under command of Colonel McHenry, numbering over a thousand men, was one of the most gallant regiments from Kentucky, and won the admiration of all for the prompt and efficient manner in which it performed the duties assigned it. In December, 1862, Lieutenant Colonel A. M. Stout was commissioned Colonel, and commanded the regiment until its final muster-out.
It has participated in the following named engagements in which loss was sustained, viz: Fort Donelson, Shiloh, Chickamauga, Kenesaw Mountain, Corinth, Atlanta, Marietta, Kingston, Georgia; Dallas, Georgia; Cassville, Georgia; New Hope Church, Georgia, and Altoona Mountain, Georgia.
It was mustered out at Louisville, Kentucky, on the 23d January, 1865, the recruits and veterans being transferred to the 21st Kentucky Veteran Infantry.
Source: Kentucky Adjutant General's Report, pg. 985

I have a big contract on hand, and will have some work for you and your regiment today or tomorrow, and I expect to hear a good report from the Kentuckians.
[General Grant to Colonel McHenry at Fort Donelson]

Bibliography
One may add photographs, letters, pension records, biographies, etc. by sending an Email to the
17th Kentucky Webmaster
---
HISTORICAL REFERENCE LINKS
Dyer's 17th * Dyer's 25th * Official Record Extracts * Bibliography
BATTLE LINKS
Altoona_Summary * Atlanta_Summary * Atlanta_Records * Chickamauga_Summary * Chickamauga_Records * Chickamauga_Album * Corinth_Album * Dallas_Summary * Fort_Donelson_Summary * Fort_Donelson_Album * Fort_Donelson_Records * Franklin_Summary * Jonesboro_Summary * Lovejoy_Summary * Kenneshaw_Mountain_Summary * Marietta_Summary * New_Hope_Church_Summary * Shiloh_Summary * Shiloh_Album * Shiloh_Records *
MISCELLANEOUS LINKS
* Kentucky_Civil_War * NARA_Military_Records * Calhoun_Topo_Map
The 17th Kentucky Volunteer Infantry Regiment was an infantry regiment that served in the Union Army during the American Civil War.
Service
The 17th Kentucky Infantry was organized at Hartford and Calhoun, Kentucky and mustered in for a three-year enlistment in December 1861 under the command of Colonel John Hardin McHenry, Jr. Colonel McHenry was relieved of command on December 4, 1862 for issuing an order to his men to return runaway slaves to their masters, which was contrary to standing orders.
The regiment was attached to 13th Brigade, Army of the Ohio, to December 1861. 13th Brigade, 5th Division, Army of the Ohio, to February 1862. 1st Brigade, 3rd Division, Army of the Tennessee, to March 1862. 3rd Brigade, 4th Division, Army of the Tennessee, to April 1862. 10th Brigade, 4th Division, Army of the Ohio, to July 1862. 9th Brigade, 3rd Division, Army of the Ohio, to September 1862. District of Western Kentucky, Department of the Ohio, to November 1862. Post of Clarksville, Tennessee, Department of the Cumberland, to March 1863. 1st Brigade, 3rd Division, XXI Corps, Army of the Cumberland, to October 1863. 3rd Brigade, 3rd Division, IV Corps, to January 1865.
The 17th Kentucky Infantry mustered out of service at Louisville, Kentucky on January 23, 1865.
Detailed service
Duty at Calhoun, Ky., until February 1862. Action at Woodbury, Ky., October 29, 1861. Morgantown October 31. Moved to Fort Donelson, Tenn., February 11–13. Investment and capture of Fort Donelson, Tenn., February 13–16. Expedition to Crump's Landing, Tenn., March 14–17. Battle of Shiloh, Tenn., April 6–7. Advance on and siege of Corinth, Miss., April 29-May 30. Bridge Creek before Corinth May 28. Pursuit to Booneville May 31-June 12. Buell's Campaign in northern Alabama and middle Tennessee June to August. March to Nashville, Tenn., thence to Louisville, Ky., in pursuit of Bragg August 21-September 26. Moved to Bowling Green, Ky., thence to Russellsville, Ky., and duty there until December. Ordered to Clarksville, Tenn., and duty there until March 1863. Moved to Nashville, Tenn., thence to Murfreesboro, Tenn., and duty there until June. Tullahoma Campaign June 23-July 7. At McMinnville until August 16. Passage of Cumberland Mountains and Tennessee River and Chickamauga Campaign August 16-September 22. Battle of Chickamauga September 19–20. Siege of Chattanooga, September 24-November 23. Chattanooga-Ringgold Campaign November 23–27. Orchard Knob November 23–24. Missionary Ridge November 25, March to relief of Knoxville November 28-December 8. Operations in eastern Tennessee December 1863 to April 1864. Moved to Cleveland, Tenn. Atlanta Campaign May to September. Demonstration on Rocky Faced Ridge May 8–11. Battle of Resaca May 14–15. Adairsville May 17. Near Kingston May 18–19. Near Cassville May 19. Advance on Dallas May 22–25. Operations on Pumpkin Vine Creek and battles about Dallas, New Hope Church and Allatoona Hills May 25-June 5. Pickett's Mills May 27. Ackworth June 6. Operations about Marietta and against Kennesaw Mountain June 10-July 2. Pine Hill June 11–14. Lost Mountain June 15–17. Assault on Kennesaw June 26. Ruff's Station July 4. Chattahoochie River July 5–17. Peachtree Creek July 19–20. Siege of Atlanta July 22-August 25. Flank movement on Jonesboro August 25–30. Battle of Jonesboro August 31-September 1. Lovejoy's Station September 2–6. Operations against Hood in northern Georgia and northern Alabama September 29-November 3. Moved to Nashville and Pulaski, Tenn. Columbia, Duck River, November 24–27. Battle of Franklin November 30. Ordered to Louisville, Ky., December.
Casualties
The regiment lost a total of 298 men during service; 7 officers and 128 enlisted men killed or mortally wounded, 5 officers and 158 enlisted men died of disease.
Commanders
Colonel John Hardin McHenry, Jr.
Colonel Alexander M. Stout
See also
References
Dyer, Frederick H. A Compendium of the War of the Rebellion (Des Moines, IA: Dyer Pub. Co.), 1908.
Attribution
This article contains text from a text now in the public domain: Dyer, Frederick H. (1908). A Compendium of the War of the Rebellion. Des Moines, IA: Dyer Publishing Co.
External links
Alphabetical roster, history, photographs, & biographical sketches of the 17th Kentucky Infantry (Archived 2009-10-19)
Blog reporting the history of the regiment in "150 years ago, today" format (17thky.blogspot.com)
 Pre-War
 1861
1862
1863
1864
Post-War