genealogy
now browsing by tag
 Deadly Dose
*Nell B Clark Birth 16 Jul 1881 in , Christian, Ky. and died 27 Jul 1904. Nell was the daughter of Joab Clark, Jr. Birth 28 Jun 1856 in , Christian, Ky. and died 22 Oct 1946 in Crofton, Christian, Ky. and Mary Virginia "Molly" Meyers
she was born  August 6, 1859 in Christian County, Ky. and died February 18, 1939 in Christian County, Ky. the daughter of  George Haskins Myers (pictured below) 1831 – 1927 and Salena F. Thompson 1836 – 1912.  To this union was born, Mack L Clark 1880 – , *Nellie B Clark1881 –, John V Clark 1883 –, Hanson M Clark 1898 –.  
Nell Clark grew up near and in Crofton as marked on the census records for the
Rev Joab Clark, Jr. family; 1870 Age: 14 Fruit Hill, Christian, Ky.  Residence 1880 Age: 24 Fruit Hill District.
With much drama, shame & claims of innocence, Nell was compelled to ingest a dose of carbolic acid. And though, with doctors summoned and tenderly attending the young Nell, 23 their would be nothing to save her, as any dose of the poison will slowly destroy and deteriorate the ingestion system causing hemorrhage. No antidote could save the beautiful young lady and she died.  Sadly, about August 17, 1904 Nell was arrested on forgery of more than 500 from Walter D. Bowles.  Initially the story was withheld from the newspapers, until on August 17th the Paducah Sun reported the girls ingestion of the Deadly Dose, however, they actually reported that it was Claude B. Bowles, the brother of Walter Bowles, subsequent reports from The Hopkinsville Kentuckian report Walter Bowles, his brother as the actual victim of the crime of forgery.  Later Hopkinsville New Era covered the story as well. Thought the story tells of her crime and horrible demise, little and nothing was reported of how, why and where was Ms Nell Clark able to access Walter Bowles account to forge a signature? And, what would cause a nice young lady, of obviously good standing in her community, do such a thing?  Nothing out of the ordinary was every reported concerning Walter, however just shortly after her death, he moved his family to Hopkinsville but his brother remained and lived out his life, as had his previous forefather in Crofton. Both Walter & Claude were married, and lived within only a mile of Ms. Clark's home. Why did she move herself to Hopkinsville and attain a job, of which her parents reported was over a scorned love affair? It's all curios in deed. We pray sympathy upon the young lady from our Father in Heaven, for the acts of suicide, and hope that she might have found peace from her tormented affair.
The Headlines Read
*****
Deadly Dose!  Ms Nell Clark seeks to end her troubles with poisoning. Swallowed corrosive sublimate because she was arrested for forgery. Ms Nell Clark of this city made a desperate attempt in Crofton Tueday Morning. Took a large dose of sublimate which may yet cause her death. Ms Clark is a pretty young women who came from her home at Crofton and secured employment in the city. She had been a telephone girl and  a cashier in several stores. Recently she was a cashier in Richardson's meat market. On Aug 8th Ms Clark drew a check on the account of Claude B. Bowles Walter Bowles of Crofton for 550.00 Mr Bowles was in the bank last Saturday and examined the check and announced it forgery. Another check for 30.00 drawn sometime before was also repudiated Ms. Clark had gone to her home and Sheriff Liam Davis went to Croton and brought her to this city. She produced over 500.000 dollars of the money and her parents made good for the rest and the matter dropped. The girl, it is said claimed to have written authority to sign his name on the check. After this unpleasant experience Ms Clark returned to the home of her father Joab Clark near Crofton in great mental distress over the disgrace all though the matter had been kept from public prints. on Thursday she was detected trying to take a dose of carbolic acid. Tuesday having watched for a favorable opportunity she swallowed the corrosive sublimate and then notified her parents that she had take n the poison. As quickly as possible A.A. Hendrix, Eugene Croft and Paul Keith were called in and one or more of the doctors have remain at her bedside. Emetics an anecdote were given and she was kept alive by stimulants. All day Tuesday and Wen she lingered suffering hemorrhages and apparently in a hopeless state. She was still alive yesterday evening and the doctors more hopeful. She is conscious and is still brooding over the disgrace and said she is not sorry she took the drug. Claude B Walter Bowles is the son of a prominent Crofton land owner who recently sold a large tract of land and gave each of his 6 children 3000 of the money. Claude B. Walter Bowles deposited his share here and this money is the funds the girl check on. Ms Clark is a 23 year old and very pretty girl she is the granddaughter of Esq. Geo. H. Myers one of the leading citizens of North Christian and the late Rev Joab Clark. The noted Universalist preacher, she may have many relatives in the county all prominent and influential.
Ms Nell Clark died Sat about noon
********
She succeeded in the effort to end her troubles in death
Ms Nell Clark a pretty Crofton girl who took a fearful supplement Tuesday with suicidal intent lingered until  Sat at 12:30pm. when death ended her suffering. Her physicians held out no hope for her recovery from the first. Her intestines are fearfully burned and hemorrhages showed she had hopeless conditioned from the fiery poison. On Friday she began to grow rapidly worse and continued to sink to the end. Her burial took place Sunday and she was laid to rest in the country home she left a few years ago to come to this city. She was 23 years old
Ms Nell Clark's father Joab Clark, Jr. was the son of  Reverend Joab Clark, Sr. born 23 Jul 1807 in Ky and died 23 JAN 1882 in Hopkinsville, Christian, Ky. Rev Joab Clark, Sr. was the organizer of the Universalist church in Kentucky and the first church organized in Crofton, city proper and Nancy B. Brasher (headstone picture below), 1809 – 1837 the daughter of Thomas Brasher born 1773 in
Chatham, Chatham, North Carolina, died 7 Sep 1852 in , Christian, Ky. Catherine Croft, born 1778 and died 1852 the Daughter of Frederick Croft, 1745-1805 and, the aunt of Crofton founding father of James E. Croft. A study of this family can be found in the VOL 1 Issue 1 of the Crofton Connection.

Reverend Joab Clark, Sr. the son of Joseph Clark, 1759 – 1851 and Mary Ann Golden,
1776 – 1838 Joab Married (1) Elizabeth Brasher, 1809 – 1837 To this union was born the following children G.G. Clark, H.B. Clark, Harriet Clark, Sabastion Streeter Clark, Volney Columbus Clark 1832 – 1897, Aurelia Clark 1835 – 1904 Reverend Joab Clark, Sr. next married (2) Mary A Brasher, 1820 – 1852 To this union the following children were born; Victoria Clark, Albert H. Clark Col. 1839 – 1899, Elizabeth Clark, 1843 – 1901, Nancy Ellen Clark, 1847 – 1932, Josephine "Josie" Clark, 1849 – 1876. Reverend Joab Clark, Sr. next married (3) Nancy B Brasher, 1822 – 1900, To this union the following children were born; Joab Jr Clark 1856 – 1946, Mary "Mollie" Clark, 1860 – 1941.
All three wives of Reverend Joab Clark, Sr., were the daughters of Thomas Brasher "Brazier" born 1773 in Chatham, Chatham, NC, Death 7 Sep 1852 in , Christian, Kentucky, the son of  Aquilla Brazier born 28 Jul 1740 in Baltimore, Baltimore, Maryland and died, 1808 in S.C.. and Catherine Croft VOL 1 Issue 1 of the Crofton Connection. 
Consolation Universalist Church, "Christian County" Kentucky
The Consolation Church was one of the first Universalist churches in the west of the pre-1830s. The church in the home by a traveling universalist minister – who was not ordained by the Universalists, but apparently by the frontier branch of what is now the Church of the Brethren. The church apparently officially affliated with the Universalists around 1835. (if we are to believe the 19th century registers)
In northwest Christian County, Kentucky – 8 miles from Hopkinsville, Ky – on the current Dawson Springs Road.
Consolation Church- 16 May 1819- circa 1940s or 1950s
house church 1819- 1840, first building 1840-1870, second building 1870-1917, third building 1917- torn down c1972
1885 had 175 members
A historic marker placed as the first Universalist Church west of the Allegheny Mountains. N 37° 01.812 W 087° 34.896 16S E 448271 N 4098380
Consolation School c1912 – 1940s high school and grade school
church was founded by William Lowe, an Universal Redemption minister.
It originally met in the home of James E. Clark (1770-1841).
While the Clark family was from Virginia, James and his brother Jonathan lived in the
Pendleton district of South Carolina in the 1790s (apparently in Anderson County).
Rev. Joab Clark (1807-1882) was a native of Christian County, ordained in 1835, was the regular preacher at Consolation from 1833 to 1882, replacing William Lowe.
His son Hosea Ballou Clark (1834-1913) was a member of the Universalist Church, and
a Republican state Representative in 1885. His wife was a Methodist. Hosea was the President of the Kentucky Universalist Convention in 1893.
Joab "Joe" Clark Junior (1856-1946) son of Rev Joab, active in the Universalist Church.
Hosea's son, Claude R. Clark (1870-1943), was also an Universalist. His wife was a member of the Cumberland Presbyterians. Claude owned 6 grocery stores in the Hopkinsville area.
The church was still active in the mid1930s (leaders include Pool and McCord).
it was apparently gone by the time of the consolidation of Universalists and Unitarians.
At one time, there were apparently at least three Universalist Churches in Christian County.
 To be continued..VOL 1 Issue 3 March including hand drawn maps of the Reverend Joab Clark Farm and cemetery near Pembroke, and lots more pictures! Feature genealogy of Walter D Bowles and his ancestry from Irish Indentured Immigrant Servant (Conviction papers)….Coming soon! Watch for printed copies at participating Crofton Locations and online version March 1, 2014!
Source Citations
1.  Jordan R. Dodd, ed.  1993.  Kentucky Marriages:  Early to 1850.  Liahona Research, Orem, UT (Broderbund CD-229):
| | | | |
| --- | --- | --- | --- |
| Clark, Joab | Brasher, Elizabeth | 23 Aug 1827 | Christian Co. |
| Clark, Joab | Brasher, Polly A. | 12 Sep 1837 | Christian Co. |
2.  Cemetery Records of Northern Christian Co., KY.  (LDS Fiche #6075675), p. 209:
| | | | |
| --- | --- | --- | --- |
| Joab Clark | 23 Jul 1807 | 23 Jan 1882 | Clark Cemetery |
| Mary Clark |  3 Feb 1820 | 31 Feb 1852 (sic) | Clark Cemetery |
| Nancy Clark | 11 Mar ____ | 21 Oct 1900 | Clark Cemetery |
3.  William Henry Perrin, ed.  1884.  County of Christian, Kentucky: Historical and Biographical.  F.A. Battey Publ. Co., Chicago [LDS Film No. 0361884]), p. 588.  Biographical sketch of son, Hosea B. CLARK.
4.  Anon.  1986.  Family Histories:  Christian County, Kentucky, 1797-1986.  Christian County Genealogical Society, Hopkinsville, KY.  Biographical sketch of Joab CLARK on p. 127 (includes photograph of Joab).
5.  LDS.  Family Search: Internet Genealogy Service:  AF – Ancestral File (online at FamilySearch.org).
6.  Broderbund.  World Family Trees.  Vol. 16, Pedigree No. 432.
Click any image into a new window and then click again for better viewing!
"My Heart has been broken a hundred times in a hundred miles. But Oh! The gallantry of my men"
Colonel Stout at the end of the 17th's march from Chattanooga to Atlanta.
This slideshow requires JavaScript.
May 30, 1899
Will Decorate
The Soldiers' reunion, which has been celebrated at Crofton May 30 for the past few years will be held at Castleberry Church this year.
May 4, 1900
Annual Reunion United Confederate Veterans.
Louisville, Ky., May 30 to June 3. For the above mentioned occasion the Illinois Central R.R. will sell round trip tickets to Louisville, on May 28, 29 and 30, at rate of $3.80. Return limit June 10th. An extension of return limit to June 25th, will be allowed provided tickets are deposited with Joint Agent at Louisville on or before June 4th., and upon payment of a fee of 50 cents.
August 20, 1908
Old Soldiers
********
Hold Reunion at Crofton and
Listen to Speeches
Orations By Several Hopkinsville
Speakers of Reputation
********
The annual reunion of Co., G. 17th Kentucky Inffantry and Co., A, Third Kentucky Cavalry, of the Federal Army during the civil war, was held at Crofton. Speeches were made by Judge C.O. Prowse, Judge W.T. Fowler and Circuit Clerk, C.R. Clark.
The following resolutions were unanimously adopted by a rising vote.
Crofton, Christian County, Ky., August 17th, 1908.
At the regulat meeting, this day, of the "Associated Members of Companies G. 17th Ky Inf., vol., and A, 3rd Ky Cavy. vols., war of 1861-65 and affiliating comrads,"the following resolutions were presented and adopted by a rising vote.
Resolved 1st. That more than 43 years having elapsed since following the flag to uphold the sacredness of the fundamental principles of our Republican government-as laid down by the constitution framed by the founders of this republic, we assert out allegiance to that instrument, and the laws to uphold it; and that we are ever ready to defend the flag of our country as the emblem of equal rights and national unity.
Resolved 2nd. That the greatness and prosperity of our country and State are maintained by the enforcement of the laws, made for the government of the people, and by the people; therefore we urge upon all citizens of our country and State a strict observance of law, and a rigid enforcement upon on violators; in the language of old commander, "Let us have peace."
Resolved 3rd. That we will ever cherish the memory of our deceased comrades, that we realize the fact that it will be but a few years until all of us will muster with those gone before upon the parade ground of heaven; that it is with feelings of the deepest sadness we today miss the cheerful faces of comrades Virgil A. Hamby, John M. Cruse, Lawrence B. Armstrong and Sam McCord, who answered "here" this day one year ago, and to their loving friends we tender our sympathy and condolences.
Resolved 4th. That the thanks this association and affiliating comrades are due, and are now given to the good people of Crofton and vicinityfor their kind hospitality, and our thanks and appreciation are also given tot he speakers and others who aided in this reunion, and made it so pleasant and enjoyable to all.
Resolved 5th That we keep alive these pleasant reunions by meeting again on the first Saturday in October, 1909.
Resolved 6th. That these resolutions be published in the Hopkinsville Messenger, Hopkinsville New Era and Hopkinsville Kentuckian.
By order of the Association
M.B. Brown's Presiding.
C.A. Brasher, secy.
October 4, 1910
Reunion At Crofton
********
Many Addresses Appropriate to Occasion Delivered.
********
The annual reunion of Companies A, 3rd Ky. Cav., G, 17th Ky. Inf., H, 48th Ky Inf,, and other Federal soldiers was helpd at Crofton last Saturdat. Company A. 3rd Cav. was organized at Owensboro with Maj. Jno. W. Brethitt as the first Captain. Company G was organized at Henderson as Companies A and B, 25th Ky., with Capt. B. L. Underwood and Capt H.C. Cooper in command. Later these companies were consolidated when they became Co., G 17th Ky. with Capt. John V. Boyd as commander. Company H, 48th Ky., was commanded by Capt. James M Wilson, of this country.
This reunion, though not having so many present as some former ones, yet was the most enjoyable one held. Appropriate and eloquent addresses were made by Thomas Ewing, Capt. E.W. Pratt, Rev Nance Frank Campbell and others.
A bountiful and elegant dinner was spread by the kind ladies of Crofton and the old comrades partook of it in a manner showing they lost non of their appetite acquired during the 60's.
A resolution was adopted at the meeting disapproving the pension bill as proposed by the National Encampment of the G.A.R. at Atlantic City and giving a unanimous endorsement of what is known as the National Tribute pension bill.
Comrade M.B. Brown was reelected as president and C.A. Brasher as secretary of the reunion.
The next reunion will be held at Crofton the first Saturday in October, 1911.
October 7, 1913
Reunion at Crofton
********
Old Officers Re-elected.–Good Attendance
********
The annual reunion of the old federal veterans at Crofton Saturdat was attended by thirty four old soldiers. Dinner was served to the veterans by soldiers and others living at Crofton.
Rev. J.B. Fosher, Capt. E. W. Pratt, Rev. John M. West and others addressed the meeting.
The young ladies of Crofton deserve thanks of the old soldiers for the kindness shown them. M.B. Brown, President, and C.A. Brasher, Secretary, were re-elected.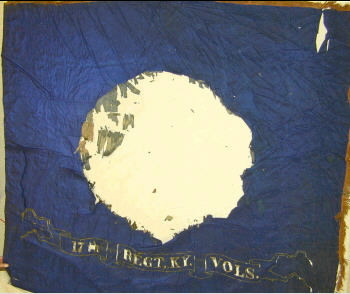 REGIMENTAL COLORS
17th Kentucky Volunteer Infantry Regiment
The above picture is what is left of the Regimental Colors of the 17th Kentucky Infantry. The colors were sewn by the loyal ladies of Owensboro and presented to Colonel McHenry before his departure to Calhoun in the fall of 1861.
The flag is believed by Bill Bright of the Kentucky Historical Society, to be the State Flag of Kentucky. In the center was the Kentcuky State Seal of two men clasping hands and the words, "United We Stand", "Divided we Fall". A unit's colors are marked by the gold fringe on its border.
A sergeant was normally charged with protecting the regimental colors, and they would have been carried by an enlisted men in battle along with the national colors (American Flag with gold trim). These brave men were often volunteers and many were wounded or killed as they became prime targets for the Confederates. One such soldier was Private Amos B. Dicken of Company C. He carried the 17th's regimental flag throughout the Battle of Shiloh. After the battle, he was listed on the sick-list for an extended period of time.
The colors were important in identifying units on the battlefield and serving as a rallying point and to control the movement of the regiment. The enlisted soldiers understood the importance of protecting the colors and ensuring they remained aloft and in the correct position during battle. The regimental colors served as an important motivator for the soldier who took pride in his identification with his regiment.
This recent photo of the 17th's colors were provided by Gene Beals who obtained them from the Kentucky Military Historical office in Frankfort where they are stored.
Sources:
Gene Beals and the Kentucky Military History office
Pension witness deposition of Major Isaac Calhoon for Amos B. Dicken


Click to see the Regimental Flag
SEVENTEENTH KENTUCKY VOLUNTEER INFANTRY
Historical Summary

Alpha Index
     The 17th Kentucky Infantry was organized in December, 1861, at Calhoon Kentucky, under Colonel Jno. H. McHenry, jr., and was mustered into the United States service on the 4th day of January, 1862, at Calhoon, Kentucky, by Captain Jno. E. Edwards, 3d United States Artillery, Mustering Officer.
Immediately after organization it was placed upon active duty, and proceeded to the front. In April, 1862, this regiment and the 25th Kentucky, having been so much reduced by disease and the ordinary exigencies of the service, an order was issued for their consolidation, the regiment to retain the name of the 17th. The 25th Kentucky, under Colonel J. M. Shakleford, was thus consolidated and lost its designation, but during its existence won great distinction for the unflinching valor displayed by both officers and men in the battles of Fort Donelson and Shiloh, Tennessee.
The new organization, under command of Colonel McHenry, numbering over a thousand men, was one of the most gallant regiments from Kentucky, and won the admiration of all for the prompt and efficient manner in which it performed the duties assigned it. In December, 1862, Lieutenant Colonel A. M. Stout was commissioned Colonel, and commanded the regiment until its final muster-out.
It has participated in the following named engagements in which loss was sustained, viz: Fort Donelson, Shiloh, Chickamauga, Kenesaw Mountain, Corinth, Atlanta, Marietta, Kingston, Georgia; Dallas, Georgia; Cassville, Georgia; New Hope Church, Georgia, and Altoona Mountain, Georgia.
It was mustered out at Louisville, Kentucky, on the 23d January, 1865, the recruits and veterans being transferred to the 21st Kentucky Veteran Infantry.
Source: Kentucky Adjutant General's Report, pg. 985

I have a big contract on hand, and will have some work for you and your regiment today or tomorrow, and I expect to hear a good report from the Kentuckians.
[General Grant to Colonel McHenry at Fort Donelson]

Bibliography
One may add photographs, letters, pension records, biographies, etc. by sending an Email to the
17th Kentucky Webmaster
---
HISTORICAL REFERENCE LINKS
Dyer's 17th * Dyer's 25th * Official Record Extracts * Bibliography
BATTLE LINKS
Altoona_Summary * Atlanta_Summary * Atlanta_Records * Chickamauga_Summary * Chickamauga_Records * Chickamauga_Album * Corinth_Album * Dallas_Summary * Fort_Donelson_Summary * Fort_Donelson_Album * Fort_Donelson_Records * Franklin_Summary * Jonesboro_Summary * Lovejoy_Summary * Kenneshaw_Mountain_Summary * Marietta_Summary * New_Hope_Church_Summary * Shiloh_Summary * Shiloh_Album * Shiloh_Records *
MISCELLANEOUS LINKS
* Kentucky_Civil_War * NARA_Military_Records * Calhoun_Topo_Map
The 17th Kentucky Volunteer Infantry Regiment was an infantry regiment that served in the Union Army during the American Civil War.
Service
The 17th Kentucky Infantry was organized at Hartford and Calhoun, Kentucky and mustered in for a three-year enlistment in December 1861 under the command of Colonel John Hardin McHenry, Jr. Colonel McHenry was relieved of command on December 4, 1862 for issuing an order to his men to return runaway slaves to their masters, which was contrary to standing orders.
The regiment was attached to 13th Brigade, Army of the Ohio, to December 1861. 13th Brigade, 5th Division, Army of the Ohio, to February 1862. 1st Brigade, 3rd Division, Army of the Tennessee, to March 1862. 3rd Brigade, 4th Division, Army of the Tennessee, to April 1862. 10th Brigade, 4th Division, Army of the Ohio, to July 1862. 9th Brigade, 3rd Division, Army of the Ohio, to September 1862. District of Western Kentucky, Department of the Ohio, to November 1862. Post of Clarksville, Tennessee, Department of the Cumberland, to March 1863. 1st Brigade, 3rd Division, XXI Corps, Army of the Cumberland, to October 1863. 3rd Brigade, 3rd Division, IV Corps, to January 1865.
The 17th Kentucky Infantry mustered out of service at Louisville, Kentucky on January 23, 1865.
Detailed service
Duty at Calhoun, Ky., until February 1862. Action at Woodbury, Ky., October 29, 1861. Morgantown October 31. Moved to Fort Donelson, Tenn., February 11–13. Investment and capture of Fort Donelson, Tenn., February 13–16. Expedition to Crump's Landing, Tenn., March 14–17. Battle of Shiloh, Tenn., April 6–7. Advance on and siege of Corinth, Miss., April 29-May 30. Bridge Creek before Corinth May 28. Pursuit to Booneville May 31-June 12. Buell's Campaign in northern Alabama and middle Tennessee June to August. March to Nashville, Tenn., thence to Louisville, Ky., in pursuit of Bragg August 21-September 26. Moved to Bowling Green, Ky., thence to Russellsville, Ky., and duty there until December. Ordered to Clarksville, Tenn., and duty there until March 1863. Moved to Nashville, Tenn., thence to Murfreesboro, Tenn., and duty there until June. Tullahoma Campaign June 23-July 7. At McMinnville until August 16. Passage of Cumberland Mountains and Tennessee River and Chickamauga Campaign August 16-September 22. Battle of Chickamauga September 19–20. Siege of Chattanooga, September 24-November 23. Chattanooga-Ringgold Campaign November 23–27. Orchard Knob November 23–24. Missionary Ridge November 25, March to relief of Knoxville November 28-December 8. Operations in eastern Tennessee December 1863 to April 1864. Moved to Cleveland, Tenn. Atlanta Campaign May to September. Demonstration on Rocky Faced Ridge May 8–11. Battle of Resaca May 14–15. Adairsville May 17. Near Kingston May 18–19. Near Cassville May 19. Advance on Dallas May 22–25. Operations on Pumpkin Vine Creek and battles about Dallas, New Hope Church and Allatoona Hills May 25-June 5. Pickett's Mills May 27. Ackworth June 6. Operations about Marietta and against Kennesaw Mountain June 10-July 2. Pine Hill June 11–14. Lost Mountain June 15–17. Assault on Kennesaw June 26. Ruff's Station July 4. Chattahoochie River July 5–17. Peachtree Creek July 19–20. Siege of Atlanta July 22-August 25. Flank movement on Jonesboro August 25–30. Battle of Jonesboro August 31-September 1. Lovejoy's Station September 2–6. Operations against Hood in northern Georgia and northern Alabama September 29-November 3. Moved to Nashville and Pulaski, Tenn. Columbia, Duck River, November 24–27. Battle of Franklin November 30. Ordered to Louisville, Ky., December.
Casualties
The regiment lost a total of 298 men during service; 7 officers and 128 enlisted men killed or mortally wounded, 5 officers and 158 enlisted men died of disease.
Commanders
Colonel John Hardin McHenry, Jr.
Colonel Alexander M. Stout
See also
References
Dyer, Frederick H. A Compendium of the War of the Rebellion (Des Moines, IA: Dyer Pub. Co.), 1908.
Attribution
This article contains text from a text now in the public domain: Dyer, Frederick H. (1908). A Compendium of the War of the Rebellion. Des Moines, IA: Dyer Publishing Co.
External links
Alphabetical roster, history, photographs, & biographical sketches of the 17th Kentucky Infantry (Archived 2009-10-19)
Blog reporting the history of the regiment in "150 years ago, today" format (17thky.blogspot.com)
 Pre-War
 1861
1862
1863
1864
Post-War
Don't Forget you can click any image into a new window and click again to enlarge for easier viewing & reading!

Ancestors of Volney Gamble,

Documenting The Pioneer Families of North Christian County & Crofton, Kentucky

Crofton Connection

by Stacy R. Webb

Sponsored by

MEHRA Publishing &

The Crofton Diner, home-style cooking!

IV. Andrew F Gamble

****Andrew was born about

1784

in

North Carolina, and

died

1860

in Kentucky. The son of Unknown and Unknown, at this time. Andrew married Jane Tucker on 20 Mar 1823 at the age of 39 in Christian County. Mary Jane Tucker was the daughter of Charles Tucker Birth 1775 in North Carolina died 1840 in Christian, Kentucky and Mary Dilling they were married 20 Jan 1791 in Guilford County, North Carolina, Bond #000060475, North Carolina Marriage Bonds, 1741-1868, Image Number 002153; County Guilford; Record # 03 454; Bondsman John Gamble; Witness J Hamilton. Mary Dilling was 16 yrs old and she died in 1840 Age: 65 , Christian, Kentucky. Andrew and Mary Dilling Gamble migrated to Christian County and were enumerated  in 1830 Age: 46 Christian, Kentucky,  1840 1 Jun Age: 56 Christian, Kentucky, 1850 Age: 66 District 2, Christian County, Kentucky, 1860 Age: 76. Most all the Gamble's now still in Crofton, descend from Andrew & Mary Dilling Gamble who migrated sometime before 1824 where their first child James S was born.      Pictured Right, Right is Christian County Marriage Abstract 1797-1825
     1830 Census Schedule Christian County, Kentucky Includes the following family& Slaves: Free White Persons – Males – Under 5: 3, Free White Persons – Males – 5 thru 9: 1, Free White Persons – Males – 30 thru 39: 1, Free White Persons – Females – 20 thru 29: 1, Free White Persons – Under 20: 4, Free White Persons – 20 thru 49: 2, Total Free White Persons: 6, Total – All Persons (Free White, Slaves, Free Colored): 6.
   
   To this union was born the following children: James S. Gamble 1824 – 1871 ***David Quaite Gamble 1827 – 1891 Andrew F Gamble 1828 – 1862 Samuel T. Gamble 1831 – 1870 Susan E Gamble 1832 – 1860 Mary S Gamble 1834 – Charles Lee Gamble 1838 – 1915 John Wesley Gamble 1838 – 1910 Elizabeth Jane Gamble 1842 – 1868 Joseph H Gamble 1845 – 1920 Zachariah Taylor Gamble 1847 – 1928
     Andrew Gamble Home in 1840 Christian, Kentucky Free White Persons – Males – Under 5: 3 Free White Persons – Males – 10 thru 14: 3 Free White Persons – Males – 15 thru 19: 1 Free White Persons – Males – 50 thru 59: 1 Free White Persons – Females – Under 5: 1 Free White Persons – Females – 5 thru 9: 1 Free White Persons – Females – 30 thru 39: 1 Free White Persons – Females – 80 thru 89: 1 Persons Employed in Agriculture: 4 No. White Persons over 20 Who Cannot Read and Write: 1 Free White Persons – Under 20: 9 Free White Persons – 20 thru 49: 1 Total Free White Persons: 12 Total All Persons – Free White, Free Colored, Slaves: 12

 

     Andrew Gamble 1850 Christian County, Kentucky Age: 66 Birth Year: abt 1784 Birthplace: North Carolina Home in 1850: District 2, Christian, Kentucky Gender: Male Family Number: 562 Household Members: Name Age Andrew Gamble 66 Jane Gamble 40 Andrew F Gamble 22 Samuel T Gamble 19 Susan A Gamble 18 Mary S Gamble 16 Charles L Gamble 14 John W Gamble 12 Jane E Gamble 8 Joseph Gamble 6 Zack Taylor Gamble 3

 III. David Quaite Gamble

     Was born in

1827

in Christian County,

Kentucky

and married Lucretia Jane Rodgers born Lucretia Jane Rodgers born 3 Mar 1830 in Kentucky, USA Death 24 Jun 1916 in Christian Co., she was the daughter of Levin J Rodgers 1804 – Susan Frances Forbis 1805 – unknown.  To this union was born, **William Rufus Gamble 1849 – 1932 Delila Gamble 1851 – 1856 Prudy S Gamble 1852 – Cyrus M. Gamble 1854 – 1932 Andrew Lee Gamble 1856 – 1928 Virgil C Gamble 1858 – Chasteen N Gamble 1861 – 1923 Laura J. D. Gamble 1865 – 1921 James H Gamble 1866 –unknown. David resided with his family in 1850 Age: 23 District 2, Christian, Kentucky Residence 1860 Age: 33 Christian, Kentucky Residence 1870 Age: 43 MT Vernon, Christian, Kentucky Residence 1880 Age: 53 Fruit Hill, Christian, and died in 1891 at the age of 64.

II. William Rufus Gamble

     **William Rufus as born

15 APR 1849

in

, Christian Co., and

died

18 MAR 1932

in

, Christian Co., he married in

1872 on 13 Nov Age: 23 to

(1) Subrenia Cannon was born in 1850 in Tennessee, and died before 1893. She was the daughter of William Cannon 1810 – unknown and Malinda Ganus 1810 – unknown.  To this union was born, *William Volney Gamble 1874 – 1910 Solomon L Gamble 1875 – 1924 Napoleon Gamble 1879 – 1953 Rufus Gamble 1883 – 1963 William D Gamble 1887 –unknown.
Next William married in 1893 on 29 Dec Age: 44 in Christian Co., Mary "Mollie" Sherrill she was born 17 NOV 1865 in , Christian Co., and died 26 JUL 1940 in , Christian Co., she was the daughter of William D "Bunker or Bunk" Sherrill (please see editor notes below) born about 1831 and Mary Jane unknown born about 1839 – To this union was born,  Ben Jackson Gamble 1899 – Carl Garnett Gamble 1902 – 1991 Jainey Gamble 1906 – 1948.  William and his families residences were: 1870 Age: 21 MT Vernon, Christian Co.,  Residence 1880 Age: 31 Fruit Hill, Christian, Co.,  1900 Age: 51 Crofton, Christian, Kentucky Residence 1900 Age: 51 Crofton Town, Christian, Kentucky Residence 1920 Age: 71 Crofton, Christian Co., and he died in 1932 on 18 Mar Age: 82 , Christian Co., he was buried at Coles Chapel Cemetery, Cole Chapel Rd., Crofton, Ky.


I. William Volney Gamble

     *Wm. Volney "Vol" was born,  26 JAN 1874 in Christian Co., and he married Linnie E Brasher born Jan 14, 1877  in Christian Co., on July 19, 1897 in Christian Co., Linnie she was the daughter of Dock Jones Brashear and Unknown Henderson and died Jan 20, 1931 and is buried at Ridgetop Cemetery, Crofton. To this union were born,  Private, Bertha Cecil Gamble 1899 – 1918 Bessie M Gamble 1902 – 1987 Hazel Louvenie Gamble 1907 – 1976 Sam Gamble 1910 – 1984 30 SEP 1910. Vol was appointed overseer of the Hopkinsville and Madisonville road from Crofton to Empire on May, 5, 1905.  The family residence in 1900 Age: 26 Crofton.  Vol was killed in a train accident, on October 30, 1910 and was burial at Long Cemetery. 
      Tuesday, October 4, 1910 Fatal Accident Near Crofton ********** Well Known Citizen Hit By Passenger Train and Instantly Killed ********** Neck Was Broken ********** Was Man of Family and Leaves Wife and Four Children. ********** Volney Gamble, a well known citizen of North Christian, was instantly killed by a train near Crofton Friday afternoon. Mr Gamble was engaged in excavation work near the L&N track and as passenger train No. 51, south bound, approached, his mules, which were attached to a wagon, became frightened. To avoid being run into, Mr Gamble stepped backward, when he was struck by the engine and hurled some distance, His neck was broken and his body mangled. Mr Gamble's residence was only a short distance from the point where the accident occurred and his wife and children reached the body in a very few minutes, He is 35 years old and leaves his wife and four children. Hopkinsville Kentuckian Saturday, October 12, 1912 $7,500 IN GAMBLE CASE ********** Verdict Given For Killing Volney Gamble At Crofton. ********** SUED FOR TEN THOUSAND. ********** The case of L. E. Gamble, Admr., of Volney Gamble, deceased, was brought to a close yesterday and a verdict was rendered giving the plaintif $7,500. He sued the Mason-Hanger Co. and the L. & N. railroad Co. jointly for $10,000 damages for the death of Gamble at their construction camp.
 Editors Notes; William D "Bunker or Bunk" Sherrill is related to the editor. We always love when that happens! This Sherrill Family bore great Pioneering Frontiersmen. The first Sherill accounted in the colonies was in 1620 a young man washed up on shore of North Carolina, "Shipwreck Samuel", the progenitor of all early Colonial Sherill's. Passing his legacy and bravery down through the generations to come. He is accredited with the first frontiersmen to cross the Catawba River and beyond! His son, William "The Conestoga Trader" & Master Wagon Maker who settled the Shenandoah Valley and then headed out West!  A grandson Adam "The Pioneer" settling the NC wilderness, the Yadkin & Catawba River Regions, Indian traders who spread out all over the territories, as pioneer, wagon master making his way to Tennessee in 1747.  Many more exciting tales of the Sherill and related frontier families can be read about, in the book, Misty, misty morn which is listed at our online bookstore, The Joy Store and below a direct link..Enjoy! Learn more about your family history and genealogy, pass on your proud American history and the legacy of your ancestors, to your children and beyond!
//
//